Hotel Rocore Naha
〒 900-0014 1-1-2, Matsuo, Naha-shi, Okinawa
TEL:+81 98-868-6578
Goggle Map
FROM THE AIRPORT
From the airport
PARKING
For guests who arrive by car, the following affiliated parking facilities are available.
*We do not accept advance reservations for parking. Parking spaces are allocated on a first-come, first-served basis.
*Parking may not be available for certain types of vehicles.
Matsuo Parking (multi-story parking facility)
Operating hours 07:00 to 23:00
*Please note that the facility cannot be accessed outside of operating hours.
※*This multistory parking facility is subject to limits in terms of the number of spaces available and height of vehicles that can be accommodated (up to 198.5 centimeters).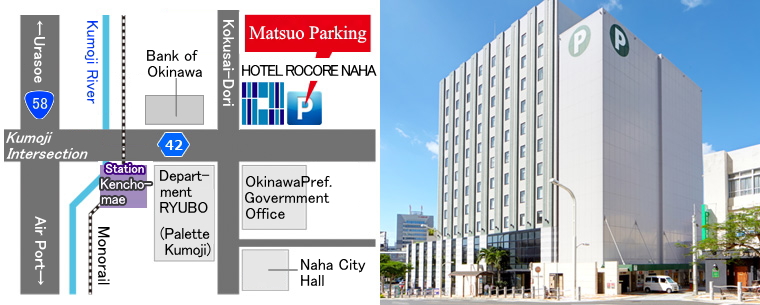 Prefectural Plaza Underground Parking Garage
Operating hours: 06:00 to 23:30
*This facility cannot be accessed outside of operating hours, and there are no in-and-out privileges once you have gained entry to this facility.
Size of vehicles that can be accommodated: Up to 2.2 meters in height, 5.6 meters in length, and 2.0 meters in width
Rate: 1,500 yen per vehicle per night
*The above fee covers use from 14:00 on the day of arrival to 11:00 the following morning.
*If you decide to take your vehicle out and return, you will be required to pay for the amount used up to that point in time and you will then be charged for the overnight guest rate upon your return.
General rates: First hour 300 yen, 150 yen per 30 minutes thereafter (hourly rate; max. 1,500 yen)
*You will be issued a parking stub by the parking facility upon entry. Please present this stub to the front desk at the hotel.
*When departing from the hotel, you will be issued a parking usage ticket for overnight guests at the front desk.
When leaving the parking facility, present your parking stub and parking usage ticket to the exit gate.
*Please ensure that you do not lose your usage ticket because you will not be reissued one if you lose it.
The loss of a usage ticket will require you to purchase another one.